Pasadena based employment law firm, Azadian Law Group, PC, was selected by the oldest and most respected legal publication in California, The Daily Journal, as one of the top 20 boutique law firms in all of California. Boutique law firms are those that specialize in a niche area of law, such as labor and employment, appellate, bankruptcy, etc. The Daily Journal honor is one of the most coveted in California by any law firm and involves an intensive selection process with thousands of nominees of which only 20 law firms are selected to the list. Azadian Law Group, PC was the only employment law firm in Los Angeles selected for the legal award.
The firm exclusively represents employees and is known for providing aggressive advocacy in the areas of wrongful termination, discrimination, employment harassment, and related employment law claims.
Speaking at the reception held for the honorees at The Peninsula Hotel in Beverly Hills, George S. Azadian, the firm's lead attorney, boiled it down to expertise, client-focused service, and professionalism: "We have a hands-on approach. This means, a potential client is in direct contact with one of our experienced attorneys from the moment they call. We are also excellent negotiators and hold ourselves to a high level of professionalism. As a result, we are able to resolve matters quickly and favorably for our clients because of the relationships we carry with opposing counsel, judges, mediators and arbitrators. The proof is in the numbers."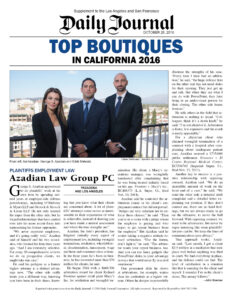 According to The Daily Journal, Azadian "has litigated virtually every aspect of employment law, including wrongful termination, retaliation, whistleblower, discrimination, harassment, wage and hour." As a result, he has recovered over $30 million for his clients in the last three years alone and continues to fight for his clients every day.
Azadian Law Group, PC has offices located at 790 East Colorado Blvd., Ninth Floor, Pasadena, California 91101 and 355 S. Grand Ave., Suite 2450, Los Angeles, California 90071. Their experienced employment lawyers can be reached at 626-449-4944 or 213-229-9031. Potential clients can also submit a request for a free consultation.