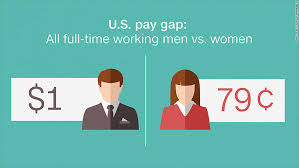 On October 12, 2017, Governor Jerry Brown, signed a new California Employment Law (California Labor Code 432.3). This new California employment law protects employees in three ways. First, an employer may not ask a job applicant's salary history and cannot try to find out that information from other sources. Second, an employer may not rely on an applicant's salary history in deciding whether or not to offer the applicant a job. Third, an employer must provide the pay scale for the position within a reasonable amount of time after an employee requests to know how much the job pays. Notably, the law provides that a job applicant is not prohibited from voluntarily disclosing his or her salary history (it just prohibits the employer from asking). The new Labor Code section is effective on January 1, 2018.
The new law seeks to combat the fact that using someone's prior salary/wage history as a basis for determining their pay really hurts females and minorities who historically have been victims of unfair pay disparities. By taking out how much an employee earned at their last job, all applicants will be judged based on their experience and how much the position should pay.
Gender discrimination is a very real problem in California and across the nation. We have represented numerous individuals in these cases, which sometimes also revolve around commission percentages, ownership interests, stock options, and other forms of unfair compensation to females compared to their male counterparts.
If you believe you have been the victim of wage discrimination based on gender or your race, please contact our experienced Los Angeles employment lawyer today for a free consultation at 213-229-9031.